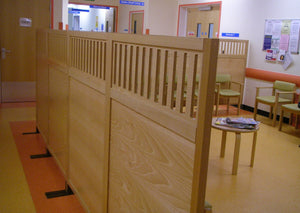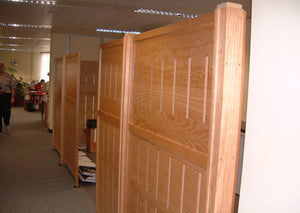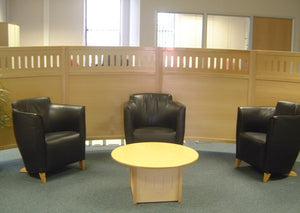 Routed Timber Screens Product Information:
Solid Timber framed Ash, Beech, Oak or Maple Routed range of screens. Each screen is custom designed with choice of all inner panels routed, or just one (leaving the other panels plan with a fabric applied). The screens can be called an item of furniture in its own right, due to the pleasing design. Further product information below:
Frame Section

Outer rail: 45mm (face) X 35mm (depth)

Middle rail: 60mm (face) X 35mm (depth)

Routed inner panel options

Choice of standard shapes see options. Each panel is individually manufactured, enabling choice of 1, 2 or all three different inner sections. Individual custom designs available to customers choice.

Finish
Natural or coloured watered based lacquers on all timbers.
Custom Design
As manufacturers we have the capability to design and make screens to your requirements
Delivery
Delivered fully assembled or built on-site, using our own vehicles to ensure the panel arrive in perfect condition and are ready for immediate use.
{formbuilder:28201}