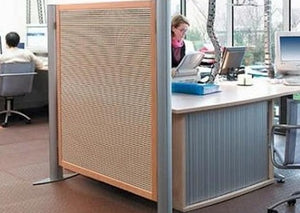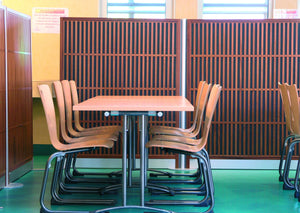 Acoustic Panel Screens Product Information:
Acoustic panel Screens designed for acoustic absorption, typically used across Theatres, Broadcast Studios, Education and Retail environments. Classed as an item of furniture in their own right, the screens can be curved or straight. The inner fabric cores can be a colour to match any decor, making screen unique to your design. Further product info below: 
Frame Section

Outer rail: 45mm (face) X 35mm (depth)

 

Acoustic Performance Panel

Acoustic reduction is achieved using an acoustic fabric sandwiched between prepared solid panels with either holes or slots to absorb the sound.

Acoustic Panel Finishes 
Choice from Matching frame timber veneer, wipe clean laminate or fabric
Finish
Natural or coloured watered based lacquers on all timbers.
Custom Design
As manufacturers we have the capability to design and make screens to your requirements (subject to material restrictions)
Delivery
Delivered fully assembled or built on-site, using our own vehicles to ensure the panel arrive in perfect condition and are ready for immediate use.